Handling All Your Hauling Needs: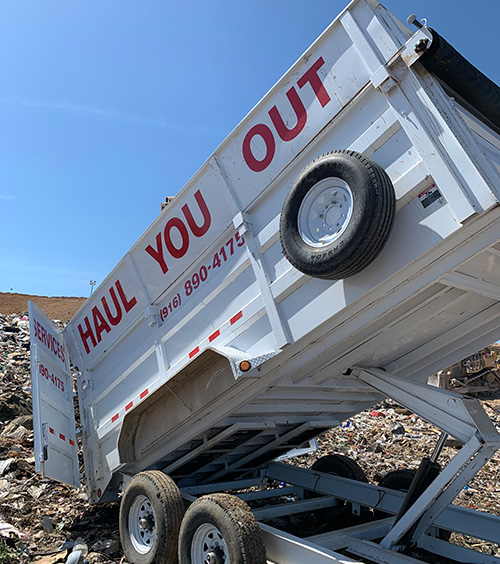 Whether you are clearing out a cluttered basement, doing extensive yard work or re-shingling your roof, you're bound to end up with a pile of trash and debris to get rid of. Your local garbage removal service won't take everything, which leaves you with the lofty task of removing this rubbish on your own. If you're faced with a mountain of trash and have no way to get rid of it, call the experts at Haul You Out! We make quick work of most unsightly debris piles, saving you the trouble of getting rid of it yourself.
Haul You Out stands out among the junk removal companies in Sacramento, CA because of our fast and efficient hauling services. When you call us, our team of hauling experts will show up at your home or business to remove the debris quickly and dispose of it for you, without leaving a trace behind. We specialize in hauling junk, trash, debris and heavy items from construction sites, vacant homes, businesses and more. We recurrently partner with contractors and other local-area customers because of our fast and reliable servie, no matter what they need hauled away. Our team is always willing to go the extra mile to alleviate the pressure hauling junk may cause. Call us the next time you need rubbish removed and see for yourself.
Our team works quickly and efficiently to remove your junk as fast as possible, cleaning up after ourselves and leaving your space clean and clear of debris.
No job is too big or small for our team of expert haulers. We can haul just about anything, whether it's shrubbery, rocks and boulders, concrete, shingles, junk piles, large appliances and more.
We provide our hauling services to customers throughout the Sacramento, CA area and up to 75 miles away.
Our team is equipped to haul debris from a variety of locations, including vacant homes, multi-story units, businesses, vacant lots and more.
We offer competitive rates for our hauling services and work to ensure each customer is extremely satisfied.
We provide services to the many senior communities in town.
There is no location we are limited to and will go to barns, farms, ranches, and more. Call for details.
Efficient Hauling Services in Sacramento, CA
No matter what you need hauled away, we're your go-to company for fast and efficient junk removal. Contact us today to schedule an appointment for debris pickup.
TAP THIS NUMBER TO CALL TODAY:

916-890-4175
We offer the best in junk hauling, trash hauling & specialty item hauling in Sacramento, CA and all our neighbors including:
West Sacramento, CA
Rosemont, CA
La Riviera, CA
Florin, CA
Rio Linda, CA
Mather, CA
Carmichael, CA
North Highlands, CA
Rancho Cordova, CA
Foothill Farms, CA
Fair Oaks, CA
Lodi, CA
Davis, CA
Elk Grove, CA
Citrus Heights, CA
Orangevale, CA
Roseville, CA
Woodland, CA